As part of the Sink Collection by Oakley, the Home Office is a briefcase I've been using for a few months now - here are my thoughts...
The Oakley Home Office is an over built and over designed briefcase, which in this 'case' is no bad thing.
This bag and others within Oakley's Sink Collection feature heavy duty designs which are built to last.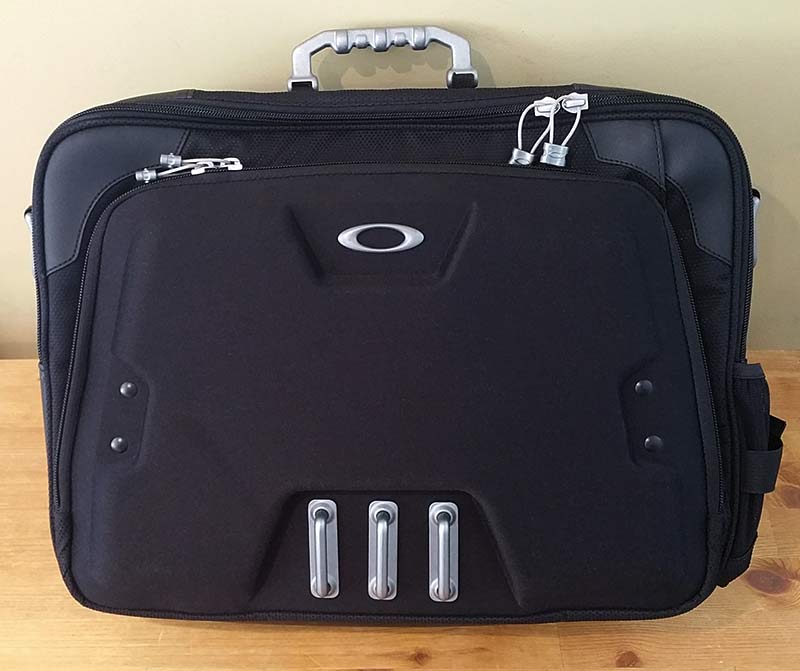 Key Features
The Home Office has 3 zipped compartments, (front, center and back), which feature:
A Padded Laptop Pocket (rear compartment)
A Padded Tablet Pocket (rear compartment)
Document Sleeves - suitable for papers, magazines etc. (main compartment)
2 Small Zipped Pouches (main compartment)
A Detachable Zipped Cable Management Case (main compartment)
5 Sewn In Open Pockets (2 have holding straps) - suitable for items such as a phone*, mouse, sun glasses, pens, sticky pads etc (front compartment)
*the iPhone 6 plus will fit into one of this pockets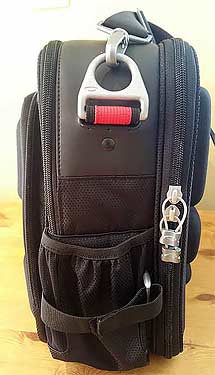 The bottom of the laptop pocket is padded with what Oakley call Red Core technology. It's a spongy red material which acts as a shock absorber.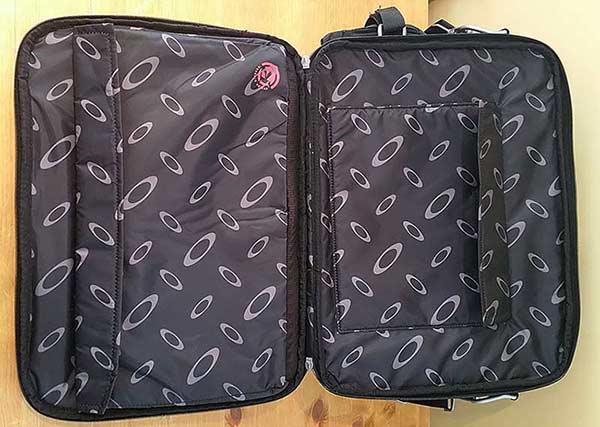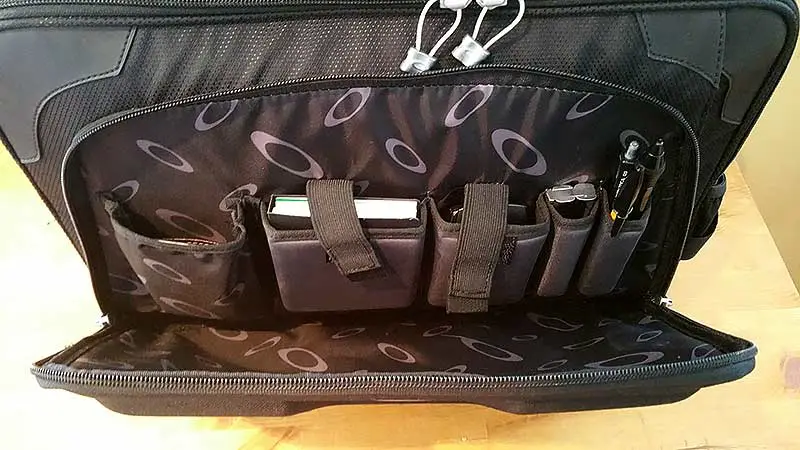 Other features include:
A Secret/Hidden Area Behind The Front Compartment (an A4 size notepad can slide in here)
A Water Bottle Holder On The Side
A Heavy Duty Padded Strap
Plastic Coated Steel Zipper Pulls Which A Padlock Could Fit Through
Buffer Panels On Either Side Of The Bag To Absorb Shock
Specifications:
Volume:
16 Litres
Dimensions:
16x12x16 inches
41x30x15 cms
Weight:
3.5lbs
1.6kg
Laptop Size:
15 inches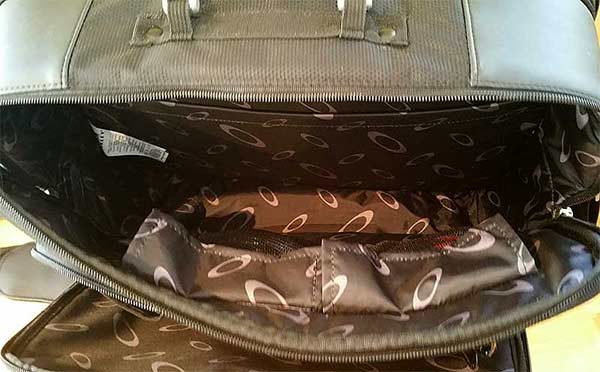 Things to note
First, is sizing of the padded laptop pocket. My 15.4" slim laptop only just fits in there. Second, the padded tablet sleeve maybe too tight for a full size tablet with a case -I don't own such an item so can't say which of these larger tablets will fit - there's plenty of space in there for my wife's 7" Nexus tablet.
That said, if these items don't fit, you can put a tablet in the laptop pocket, and your laptop (in a sleeve) in the center compartment (where there is even more protection, due to the buffer zone of the front and rear compartments) - that's how I was organizing my gear for a while.
Whilst the plastic coated, wire zip pulls look great and can fit a padlock, at first I found the zipper on the front compartment to be a bit stiff in places. After some use, this front zip runs smooth although there is a little resistance when pulling around the angled section (which is understandable given the design).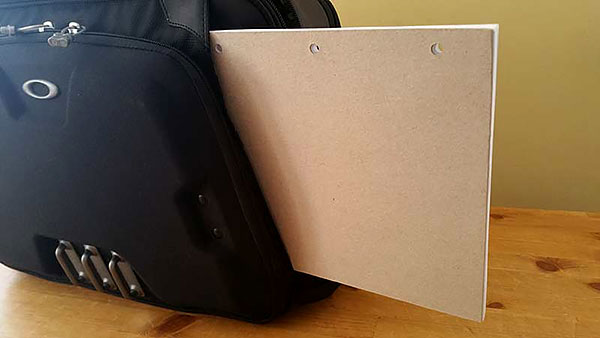 Carrying The Home Office
I can't really comment on how comfortable this bag is to carry any great distance or for long periods of time. I usually shuttle the bag from room to room, or from car via a short walk to library, coffee shop or wherever else I want to place myself and work (I am fortunate that I do not have to commute or travel to visit clients).
I can say that the padded strap and clips are heavy duty, and the metal gripped handle feels solid enough. The materials and stitching are of good quality.
Improvements
The design of this briefcase could be improved by addressing the issues previously mentioned. Increase the size of the padded laptop and notebook pockets, and perhaps smooth out the corners of the front zipper. Line Red Core throughout the bottom of the pack, not just in the laptop sleeve. Some rubber feet on the bottom wouldn't go amiss.
This bag meets my requirements
I've been using the Home Office daily for the last few months. It meets my requirements for a briefcase (and then some). I can carry my laptop, a 15" HD external USB monitor!, an Intuos 5 Wacom graphics tablet, gaming accessories (including Xbox PC controller), cables and stationary with room to spare.
That's a lot of gear for me - my life is in this bag, which contains the items I need to develop my business.
Overall I am very pleased with the Home Office. This bag is worthy of the time it took to review and share my thoughts on this with you. I would buy again if I didn't already own it.