Having more than a passing interest in whey products, I take a look at the best selling whey protein, Optimum Nutrition 100% Whey Gold Standard, and investigate why it's so popular. With over 10,000 user reviews left on Amazon.com, averaging 4.5 out of 5, it must have something special to stand out from the rest.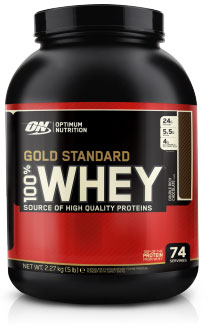 No longer is taking whey the preserve of the body builder. Whey protein supplements may benefit athletes & other active people, and in some cases people with specific health issues (Whey Gold Standard contains enzymes which aid digestion).
I've been supplementing my diet with whey protein on and off throughout my adult life. Whether it's been due to weight training, recovering from illness, or in more recent times dieting, (when I've reduced my daily calories and needed a protein boost), taking whey has helped me to achieve my goals.
However, deciding which whey product to buy has always left me a bit confused. The protein supplement market is huge. The sheer number of whey products available is bewildering, with each one trying to differentiate themselves.
Why Is Gold Standard Whey So Popular?
For a whey protein to become a best seller and remain top of the list, it has to score top marks across all these key areas:
Nutrition Facts
Serving Size 1 Rounded Scoop (30.4g)
Serving Per Container 74
Amount Per Serving
Calories 120

Calories from Fat 10

% Daily Value*
Total Fat 1g
2%
Saturated Fat 0.5g
2%
Trans Fat 0g
Cholesterol 30mg
10%
Sodium 130mg
5%
Total Carbohydrate 3g
1%
Sugars 1g
Protein 24g
48%
Vitamin A 0%
Vitamin C 0%
Calcium 8%
Iron 2%
Not a Significant Source of Dietary Fiber.
* Percent Daily Values are based on a 2,000 calorie diet.
Your Daily Values may be higher or lower depending on your calorie needs:
Calories
2,000
2,500
Total Fat
Less than
65g
80g
Sat. Fat
Less than
20g
25g
Cholesterol
Less than
300mg
300mg
Sodium
Less than
2,400mg
2,400mg
Total Carbohydrate
300g
375g
Dietary Fiber
25g
30g
Protein
50g
65g
Calories per gram:
Nutrition facts for the best selling flavor, Double Chocolate. For other flavors, there may be negligible differences in nutrition values. All flavors have 24g of protein per serving (30.4g).
Ingredients: Protein Blend (Whey Protein Isolates, Whey Protein Concentrate, Whey Peptides), Cocoa (Processed with Alkali) Lecithin, Natural and Artificial Flavors, Acesulfame Potassium, Aminogen®, Lactase
Mixing
Gold Standard Whey is very soluble, and is fast to mix with liquid. Many people have commented that the powder mixes well in water and milk (such as dairy, soya, or coconut milk), with no clumping. Whey Gold Standard can also be added to thicker liquids such as smoothies and even porridge.
If mixing with porridge it may be best to add the powder after the porridge has been prepared and cooled, in case high heat changes the composition of the whey.
Taste
There's no question that great taste plays a huge part in the success of 100% Gold Standard Whey. There are over 20 different flavors to try.
The benefits of such a wide variety of flavors are twofold.
First, there should be flavors for everyone catering for different tastes. Second, if you regularly use this whey there is no need to become tired of tasting the same flavor day, in day out.
Rocky Road, Chocolate Mint and Mocha Cappuccino are often peoples favorites.
Some flavors may taste better when mixed with water than others, as mixing the whey with water, may by nature, make the taste watery. In such cases, taste may be improved by mixing with milk.
There are reports that the Extreme Milk Chocolate flavor tastes great when mixed in either water or milk.
As any artificial sweeteners are kept to a minimum, for some the taste may not be sweet enough, however this will also depend on the flavor.
Rocky Road, a popular flavor may taste quite sweet, whilst Natural Vanilla is less so. If required, natural additives like honey or fruit juice can be added to sweeten things up.
Whey Protein Isolates (WPI) Is The Main Ingredient
Whey protein isolates, the purest form of whey protein, make up the bulk of this powder & features first on the list of ingredients.
A high proportion of whey protein isolate means more protein and fewer carbs in this product.
100% Whey Gold Standard also contains:
Glutamine & Glutaminc Acid
Amino Acids
Branched Chain Amino Acids - BCAAs

Leucine
Isoleucine
Valine

Digestive Enzymes - assists with digestion & prevents stomach upsets
Banned Substance Tested
Gold Standard Whey does not contain any banned substances. As Optimum Nutrition manufacture this protein they can control each stage of the production process. This gives reassurance to competitive athletes who need to monitor everything they put into their bodies.
Consistent High Quality
Optimum Nutrition pride themselves on creating a powder that is of a consistent high quality which produces a shake that mixes and tastes the same each time.
Part of the success of 100% Gold Standard Whey is that Optimum Nutrition test their products and publish the lab tests results, keeping themselves accountable to the consumer.
The manufacturer of the protein, Glanbia, own Optimum Nutrition, so this product comes directly from the manufacturer, from whey extracted in the US.
Closing Comments
Scoring high in mixing, taste, ingredients, and quality explains why Gold Whey Standard is so popular.
It's worth mentioning that if you use whey protein for building and repairing muscle tissue then don't forget to Eat Real Food Too! - whey should be used as a supplement to food already in your diet and not form the bulk of your protein intake.
Eating quality protein rich food such as chicken and fish alongside whey, would be the better option rather than relying on only shakes for protein.
How Much Is Too Much? - If I'm weight training to build muscle, I feel the line gets crossed if I've had more than 3 protein shakes a day with meals in between. Your own protein requirements may be different.
Don't let great tasting protein shakes become all consuming!
Optimum Nutrition - 100% Whey Gold Standard
This page came about as I was researching my next article to write & I was astounded by the sheer number of positive reviews left for this product. This page features Amazon affiliate links.